A recipe for homemade Mexican Pizzas: Taco Bell Style. Just like the original only better because they are homemade!
This post may contain affiliate links. When you click on these links, I get a small percentage back that helps me run my blog at no cost to you! For more information see my disclosure policy.
Mexican Pizzas from Taco Bell were always one of my favorite things to eat when I was younger. I always felt pretty special eating one from it's own little box. When I was grocery shopping recently, I found some cute little Street Taco tortillas from Mission. I immediately knew that I wanted to use them to make my own Taco Bell Mexican Pizzas. They ended up being the perfect size for my kiddos and were super easy to make! Definitely a crowd pleaser at my house.
Ingredients for Mexican Pizzas
-Tomato Sauce
-Ground Beef
-Taco Seasoning
-Tomato Sauce
-Chili Powder
-Garlic Powder
-Cumin
-Salt
-Oregano
-Tortillas
-Refried Beans
-Shredded Cheese
-Black Olives
-Tomatoes
-Green Onions
Helpful Kitchen Tools
How to Make Mexican Pizzas
The first thing you'll want to do is preheat your oven to 400 degrees. Spray a frying pan with cooking spray and "fry" the tortillas over medium-high heat, flipping them over so that they don't burn. You'll want to get them nice and crispy.
Brown your meat, beef, turkey or chicken. Add the tomato sauce and spices and set it aside. While the meat is cooking, you can prepare the enchilada sauce. The sauce is actually super easy. Pour the can of tomato sauce in a bowl, add the spices and mix.
Then you're ready to begin layering your mini Mexican pizzas. Start with one crispy tortilla. Place a scoop. probably 2-3 tablespoons, of refried beans on the tortilla and spread it around. Next place 2-3 tablespoons of the meat mixture. I like to sprinkle a little bit of cheese on top of the meat to hold things together.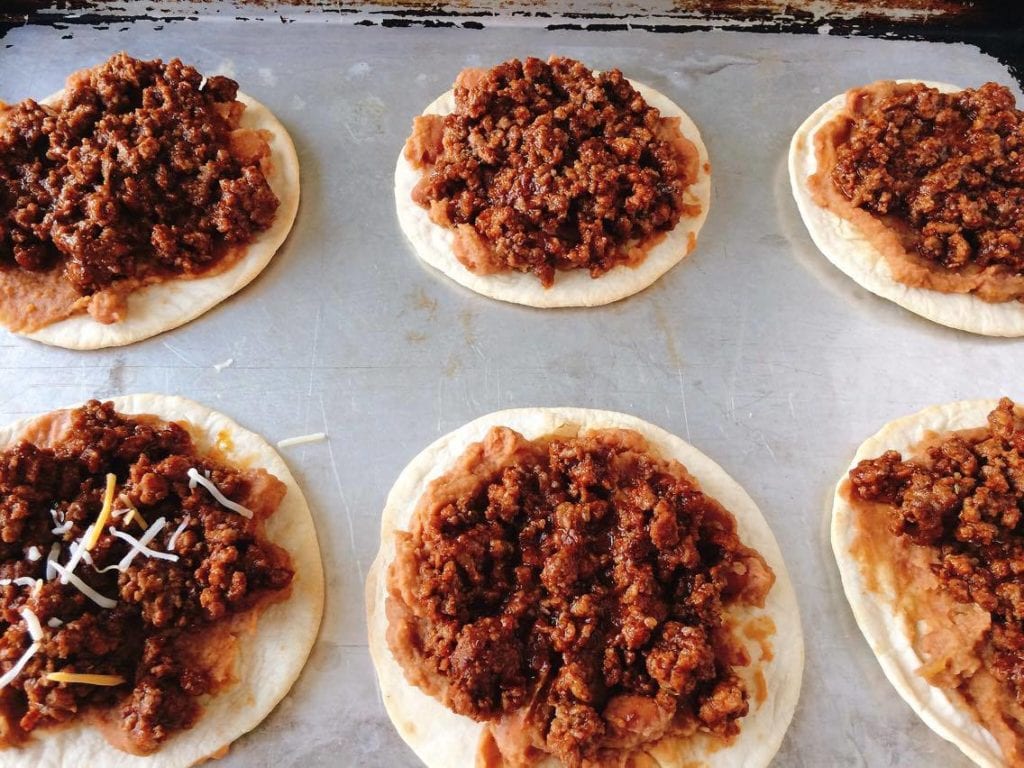 Place another tortilla on top of the cheese and spread on some enchilada sauce. Now its time for the toppings. Taco Bell Pizzas are topped with cheese, chopped tomatoes, black olives and green onions. But you can top yours with whatever your family likes. Not everyone in my family likes black olives (ahem…my husband) so I leave them off of his. Do what makes you happy, is what i say.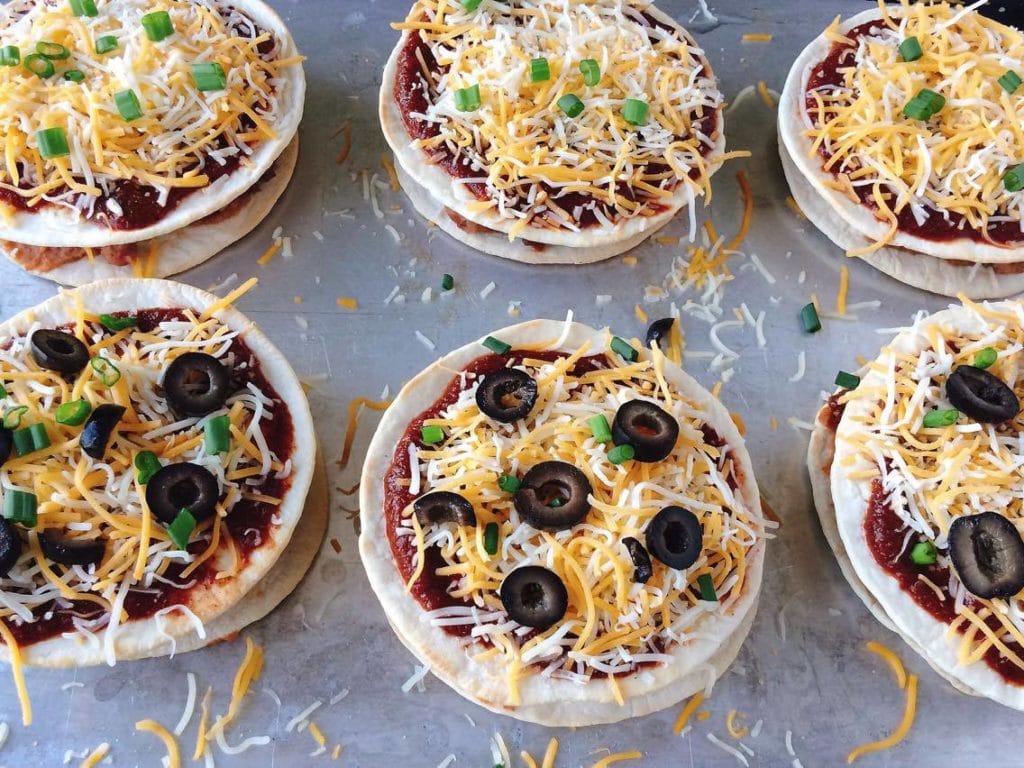 Top your Mexican pizzas with your favorite toppings and place them in the oven for 8-10 minutes until the cheese is melted. Remove from the oven and let them sit for a minute or two before serving. The great thing about the mini size of these pizzas is that they are small enough to pick up and eat with your hands! My kids like me to use a pizza cutter and slice them into fourths. That way they have cute little pizza slices.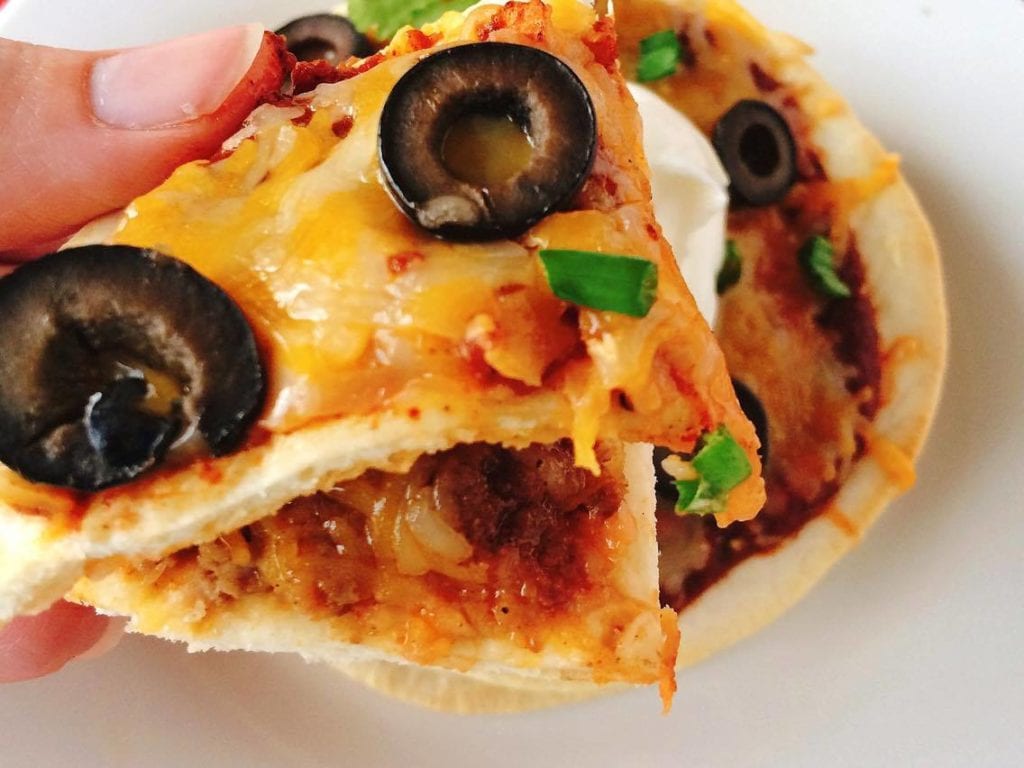 Serve them with a side salad and top them with some Homemade Restaurant Style Salsa and you will have a delicious, filling meal for you and your family. Finish up with some Homemade Disney Churros for dessert! Yum! Make sure you Pin this recipe for later.
Brown the taco meat over medium high heat. Add the tomato sauce and taco seasoning. Set aside.
Place the tomato sauce in a bowl. Add the spices and stir to mix.
Spray a frying pan with cooking spray. Heat the pan over medium high heat and add one tortilla at a time. Cook for 2-3 minutes and flip over. Cook until the tortilla is crispy. Remove from the pan and cool. Repeat with remaining tortillas.

Place six tortillas on a baking sheet. Layer with 2-3 tablespoons of refried beans, 2-3 tablespoons of taco meat and about 1 tablespoon of cheese. Place another tortilla on top. Place 1-2 tablespoons of sauce on each tortilla. Top with cheese and your desired toppings.

Place them in the oven for 8-10 minutes until the cheese has melted.

Remove from the oven and let sit for about 5 minutes. Serve and enjoy!