Disney's Gingerbread Beignets Recipe is the Christmas version of the classic French treat found in Disneyland and Walt Disney World.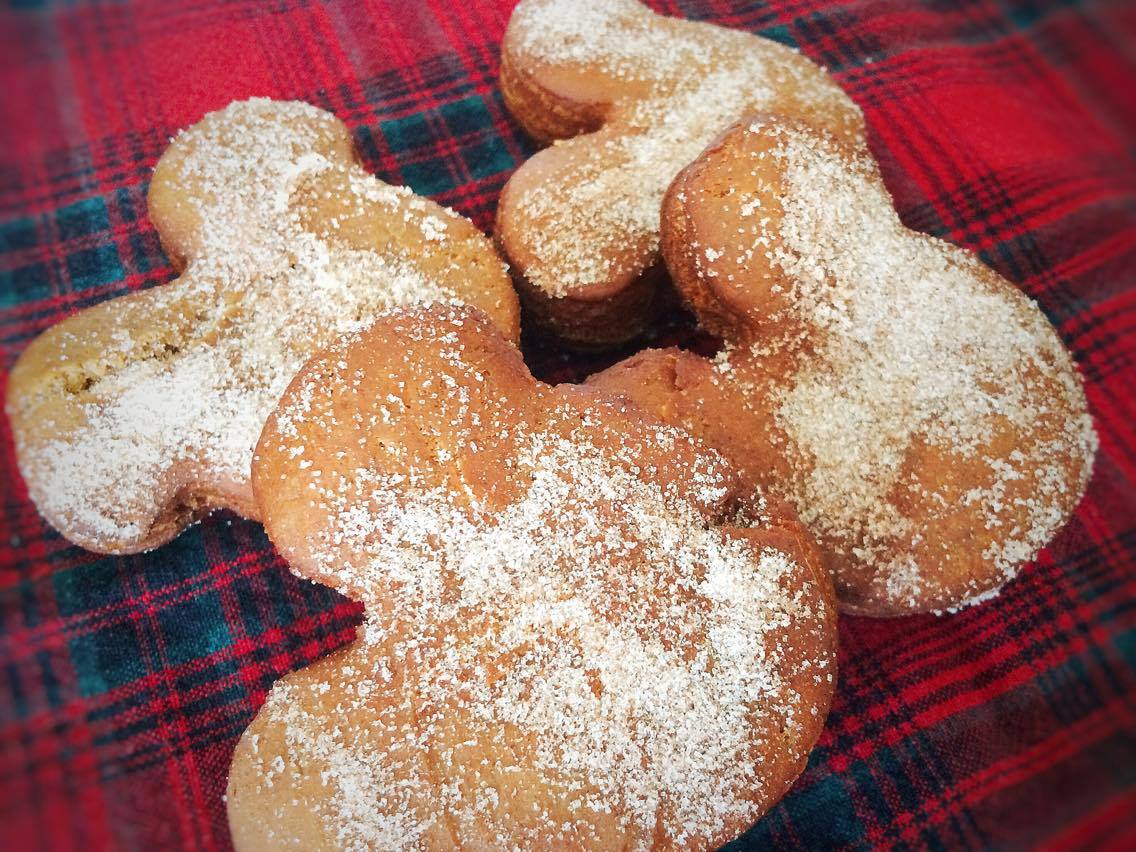 This post may contain affiliate links. When you click on these links, I get a small percentage back to me that helps me run my blog at no cost to you! For more information see my disclosure policy.
About eight years ago, my husband, baby and I went to New Orleans for a work conference. It was a really fun trip, but the best part of the vacation was being introduced to beignets. There is a very famous eatery in New Orleans called Cafe Du Monde.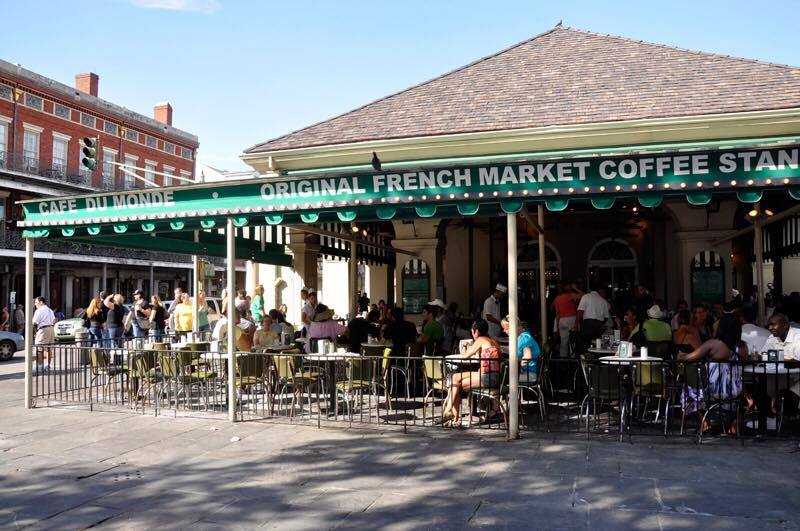 The place was crazy busy so we went in to see what the hype was. We ordered some beignets, even though I had no idea what a beignet was.  When we received our order, our plate was piled high little fried squares of heaven drenched with powdered sugar.  Needless to say, we walked back back to Cafe Du Monde every day of our trip for breakfast.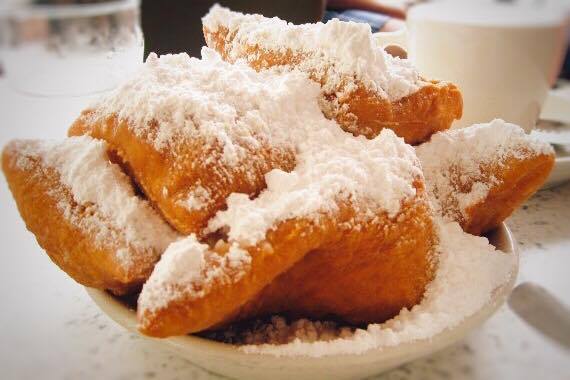 Two months later, we took a trip to Disneyland. Imagine my surprise when I found out beignets were sold there as well! As many times as I had been to Disneyland, I never knew about beignets. Now, whenever I visit the Disneyland Resort, beignets are on the top of my list! Apparently, during the fall, Cafe Orleans in New Orleans Square sells pumpkin beignets. During the holiday season, Gingerbread Beignets are served. Lately, I have been obsessed with anything gingerbread. So pairing gingerbread beignets with eggnog creme anglaise is like Christmas heaven.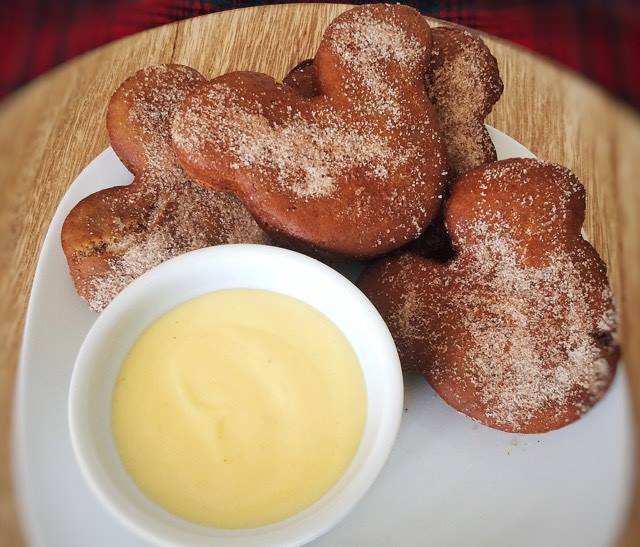 These Gingerbread Beignets would be the perfect Christmas morning breakfast. I wanted to bring a little Disney Christmas magic to my home and used this cookie cutter to cut my beignets into Mickey Mouse-shaped deliciousness. The flavor of the Gingerbread Beignets will definitely bring the Christmas spirit but I think the Eggnog Creme Anglaise sends this breakfast treat over the top. It is so creamy and tasty.
How to Make Disney's Gingerbread Beignets
Start by preparing the dough the night before you want to eat the beignets. In the morning, roll out your dough with a rolling pin and cut the beignets into your desired shape. Cover the uncooked beignets with a kitchen towel or plastic wrap sprayed with nonstick cooking spray, and wail 45 minutes. Heat the oil in a large pan to 375 degrees. Cook the beignets for a couple of minutes on each side. Remove them from the oil and place on a paper-towel lined plate or cooling rack.
How to Make Eggnog Creme Anglaise
While the beignets are cooking, begin making the Eggnog Creme Anglaise. Heat the eggnog and milk in a saucepan on medium heat until hot. While it is heating, beat the egg yolks and sugar together in the bowl of stand mixer with the whisk attachment. Slowly pour in the hot eggnog mixture while beating at a medium speed. Return the mixture to the saucepan and slowly heat until it thickens. Pour it through a mesh strainer and stir in the cinnamon and nutmeg. Serve it warm with the Gingerbread Beignets!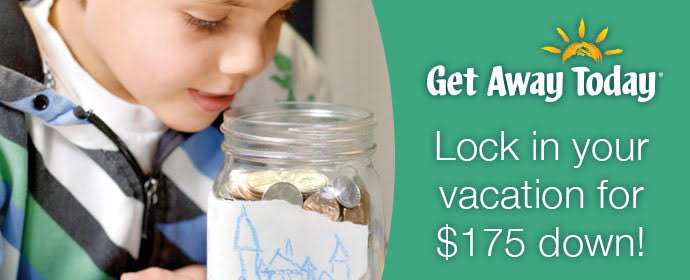 Disneyland & Disney World Savings
If you want to try these beignets for yourself at Disneyland, my friends at Get Away Today will be able to help you plan an awesome vacation! I usually book my Disney vacations through them because their ticket prices are usually a few dollars cheaper than Disneyland's gate prices and there are almost always hotels with a 3rd or 4th night free.
Get Away Today has provided an exclusive deal for my readers! Use the promo code MommyMouse at checkout to save $10 off any 2-night or longer Southern California package. (Hotel and 2 ticket minimum purchase to qualify for the discount) How cool is that?

If a trip to Disney World is in your future, they can also help you. Their customer service is THE BEST and they offer deals like discounts on rooms, free dining and more! Visit getawaytoday.com or give them a call at 855-GET-AWAY for current deals. Make sure you let them know The Mommy Mouse Clubhouse sent you!
Don't forget to pin this recipe so you'll have it handy for Christmas! Tag @mommymouseclubhouse in Instagram so I can see your creations!
Combine the evaporated milk and yeast in a large bowl; add the egg, molasses, 2 tablespoons sugar, and oil. Stir until the yeast dissolves and everything is combined.

Mix together 4 cups flour, salt, 1/2 teaspoon cinnamon, nutmeg, ginger and cloves in a medium bowl.

Add half of flour mixture to the milk mixture and stir.

Add the shortening then the remaining flour mixture. Knead it until the mixture comes together. Add the remaining 1/2 cup flour, a little at a time, if needed. Form the dough into ball, wrap in plastic wrap, and refrigerate at least 4 hours, or overnight.

On a floured surface, roll out the dough to about 1/3-inch thickness. Cut the dough into 24 squares or use a Mickey Mouse cookie cutter. Place the uncooked beignets on a greased baking sheet and cover with kitchen towel or greased plastic wrap. Set aside for 45 minutes.

Line a plate or cooling rack with paper towels and set aside.

Add the vegetable oil to a large pan and heat to 375 degrees. Carefully place a few of the beignets at a time, into the hot oil with tongs or a slotted spoon. Turn them requently with the slotted spoon or tongs. Cook them until they are puffed up and a golden brown color. Remove them from the oil with a slotted spoon or tongs and place them on the paper towel lined plate or cooling rack. Create a small tent with foil to place over the beignets to keep them warm while remaining beignets cook.

Mix together 1/4 cup sugar and 1 teaspoon cinnamon in a small bowl. Dust hot beignets with cinnamon-sugar mixture. Serve the beignets warm.
Combine the eggnog and milk in a large saucepan over medium heat until hot but not boiling.

While that is heating up, combine the sugar and egg yolks in the bowl of an stand mixer with the whisk attachment. Beat until light, thick and fluffy.

Very slowly pour in the hot eggnog mixture to the mixer while beating at medium-low speed.

Transfer mixture back to the saucepan and cook over low heat, stirring constantly, until sauce thickens and becomes creamy, about 10 minutes. Do not simmer the mixture because the egg yolks will curdle.

Remove the sauce from the heat, whisk, and strain through a mesh strainer. Stir in the nutmeg and cinnamon. Serve warm with Gingerbread Beignets.
Helpful Items for this Recipe: