A delicious, filling, healthy, protein-packed Copycat Recipe of Cafe Zupas California Protein Cobb Salad. Packed with vegetables, chicken, and topped with a sweet and tangy herb vinaigrette!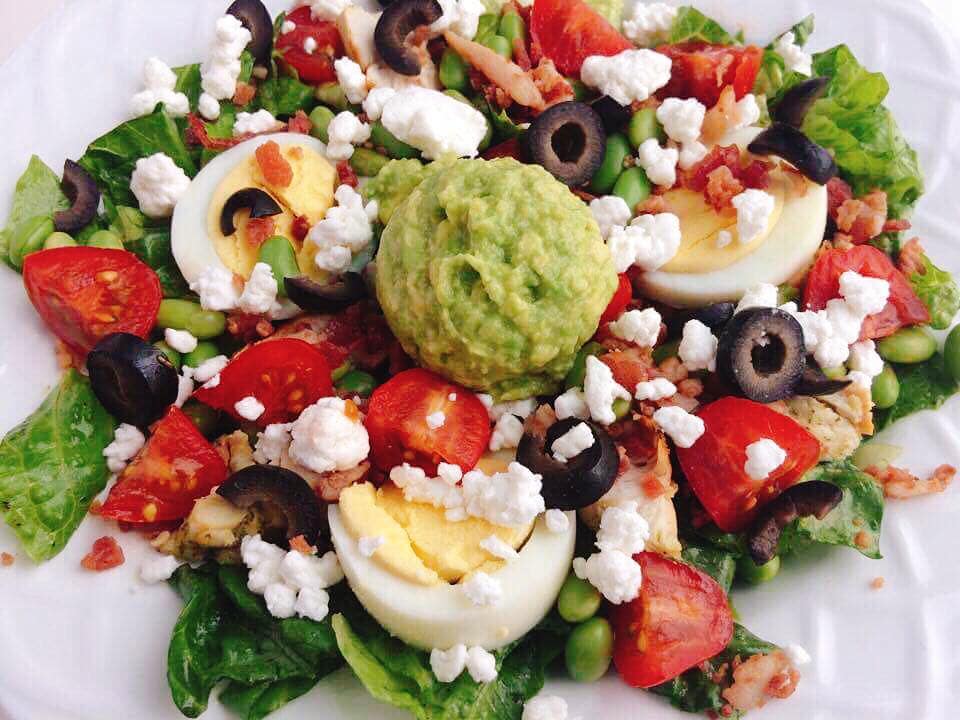 This post may contain affiliate links. When you click on these links, I get a small percentage back to me that helps me run my blog at no cost to you! For more information see my disclosure policy.
You guys, this salad is A-M-A-Z-I-N-G! My husband discovered this little gem at Cafe Zupas a couple of years ago and introduced it to me. Let me tell you. I LOVE this salad. I CRAVE this salad. It is so filling, healthy and delicious. It is totally packed with protein and the Herb Vinaigrette is the perfect blend of sweet and tangy. This salad is HEAVEN in a bowl!
To avoid going broke from going out to lunch and dinner at Cafe Zupas every day to consume this beautiful piece of work, I decided that I needed to come up with a recipe for this salad to make at home. The key is the dressing. Although you have a choice between Ranch dressing and Herb Vinaigrette dressing at the restaurant, I have never tried this salad with ranch because the herb vinaigrette is so wonderfully addicting.
After a little trial and error with the dressing, I believe i have come up with an almost exact replica of Cafe Zupas California Protein Cobb Salad. The only thing this salad is lacking, is someone to whip it up for you and do the dishes when you're finished. But that's what husbands and kids are for, right?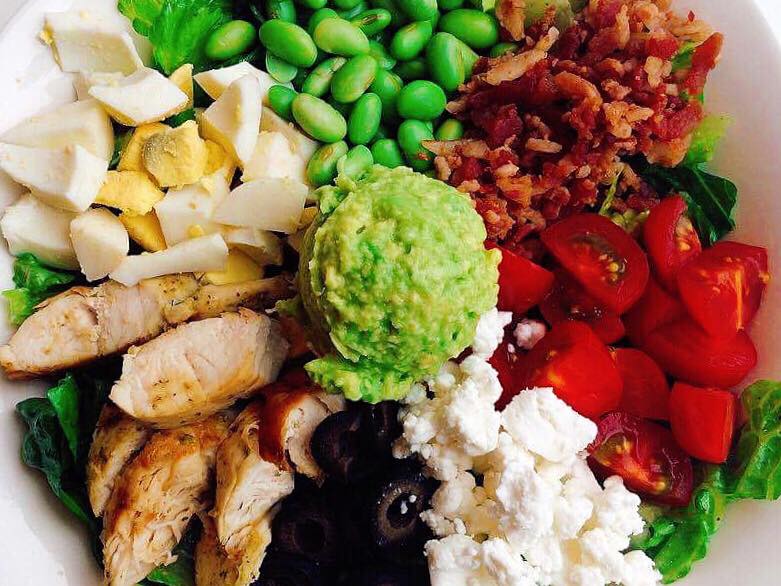 Ingredients for California Protein Cobb Salad
Herb Vinaigrette Dressing
-Apple Cider Vinegar
-Olive Oil
-Dijon Mustard
-Minced Garlic
-Fresh Parsley
-Another Fresh Herb (Cilantro or Basil)
-Salt
-Black Pepper
-Sugar
Cobb Salad
-Romaine Lettuce
-Hard Boiled Eggs
-Bacon Pieces
-Edamame
-Grape Tomatoes
-Black Olives
-Feta Cheese
-Avocado
-Cooked Chicken (shredded or diced)
How to Make California Protein Cobb Salad
Begin by adding all of the herb vinaigrette salad dressing ingredients to your blender and blend. Blend away, my friend! I don't know what blender you use, but I bought a Magic Bullet a few years ago and I LOVE it! It gets used at least 2-3 times a day for everything from protein shakes to this yummy dressing! I love that it comes with multiple cups and blades. Its has a TON of power and is perfect for so many jobs. If you don't already have a good blender, I definitely recommend the Magic Bullet!
Chop the lettuce into bite-sized pieces. For me, I like to cut my lettuce into small pieces, almost like a chopped salad. I hate having to eat giant pieces of lettuce or feeling like i have to use a knife to cut my salad! Slice the hard boiled eggs, grape tomatoes and black olives.
Slice open an avocado and remove the pit. Scoop out the flesh and smash it to guacamole consistency.
Grill, bake, or cook your chicken in an Instant Pot! Or you can use pre-cooked chicken from the freezer section at your grocery store. Whatever you would like to do.
Next, you can begin to assemble the salad. Place the lettuce and your desired amount of vinaigrette in a large bowl with a lid. Shake to toss the salad and coat the lettuce with the dressing. Place the salad into two bowls. Place all of the toppings on the lettuce. Serve this salad with these delicious Honey Buttermilk Biscuits and your meal will be complete!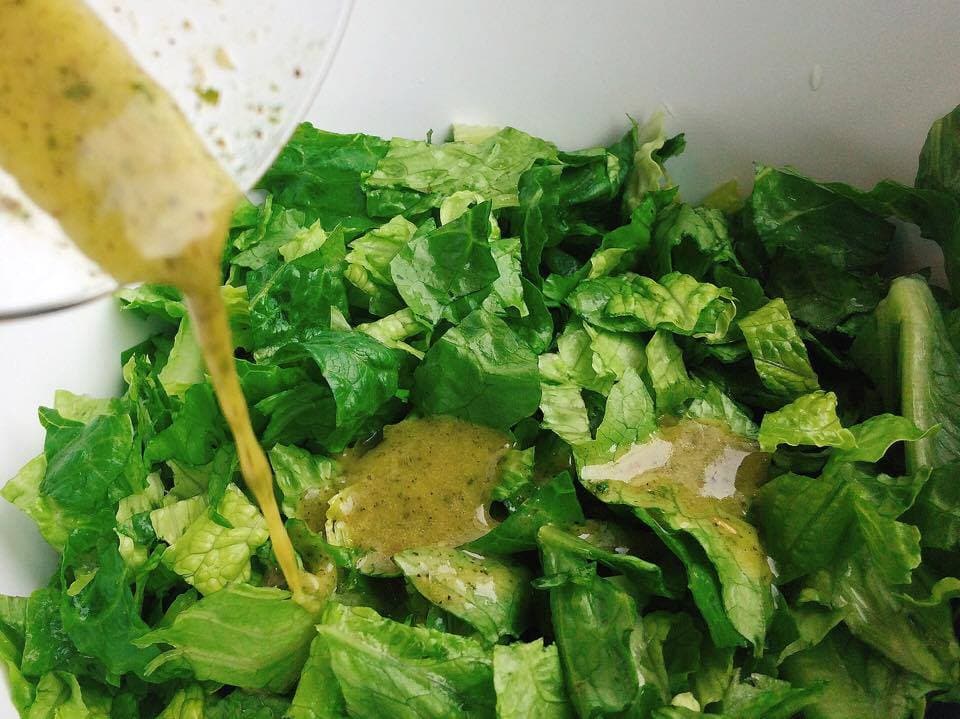 Make sure you pin Cafe Zupas California Protein Cobb Salad Copycat Recipe so that whenever your craving for this salad comes, you can quickly find this recipe. I'm warning you, its addicting!
Herb Vinaigrette Dressing
| | |
| --- | --- |
| Herb Vinaigrette Dressing | |
Prepare the Herb Vinaigrette by placing all of the ingredients in a blender and blend.

Chop the lettuce, peel and slice the hard boiled eggs, slice the grape tomatoes in half and slice the black olives.

Slice open the avocado and remove the pit. Smash the avocado to guacamole consistency.

Cook your chicken on the grill, pan, oven, slow cooker or instant pot. Dice or shred the chicken.

Assemble the salad by placing the lettuce and dressing in a large bowl and cover. Shake to toss.

Top the salad with chicken, eggs, bacon, edamame, grape tomatoes, black olives, feta and avocado. Enjoy!
This salad can be made quickly by using pre-sliced olives, frozen edamame, pre-crumbled feta cheese and packaged bacon pieces, and pre cooked chicken.