I've always loved those houses that have a huge wrap around porch with a swing.  Although a swing wouldn't be very practical on my front porch, I do have a cute little bench.  My youngest son and I like to sit on it while we wait for his brothers to walk home from school.  When I got the bench, I decided to make some cute accent pillows to spruce it up.  When Halloween came, I made some cute black and orange pillows to celebrate.  Now with the Thanksgiving Holiday coming up, I decided that I needed to make some Cheap, Fast & Easy DIY Accent Pillows to match the fall decor on my porch.
Anyone who knows me, knows that I am not big on sewing.  It's kind of like ironing and dusting.  They're just not my thing.  When I was about 7 or 8 years old, my grandma attempted to teach my sister Jenny and me, how to sew a pillow.  We did it by hand.  It took FOREVER.  I got it done.  My sister, on the other hand, sewed three sides of hers and stuffed it.  She then decided that she had had enough sewing and wrapped the thread around the fourth side like a sack. Done.
My mom tried to teach us to sew a skirt when we were a little older, with the sewing machine. I did ok, but never got the sewing bug.
The great thing about these Cheap, Fast & Easy DIY Accent Pillows is that they are just that.  Cheap and easy.  I picked up a couple of yards of fall themed fabric and got out the old sewing machine.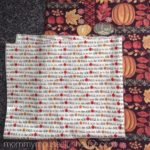 All you need to do is decide how big you want your pillows.  I bought 1 yard of one pattern and       1/2 yard of another. I pretty much cut the 1 yard of fabric in half and used those as a template to        trim the other 1/2 yard.
Once you have your three squares of fabric cut out, flip them inside out and line them up.  Sew two full sides of the pillow and 1/2 of the remaining side.  Then stuff the pillow with batting.  I actually used the stuffing out of old pillows I had, which made them even cheaper!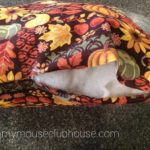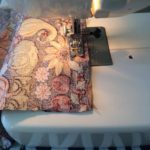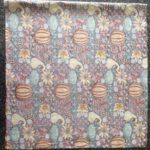 After the stuffing is in, finish sewing the last 1/2 side. Just like that, you have a pillow! It really only takes 20 minutes to make a pillow!
Get to Work!