Circuit Cubes Whacky Wheels is a fun educational toy that your kids will enjoy! I was given this product to review. All opinions are my own.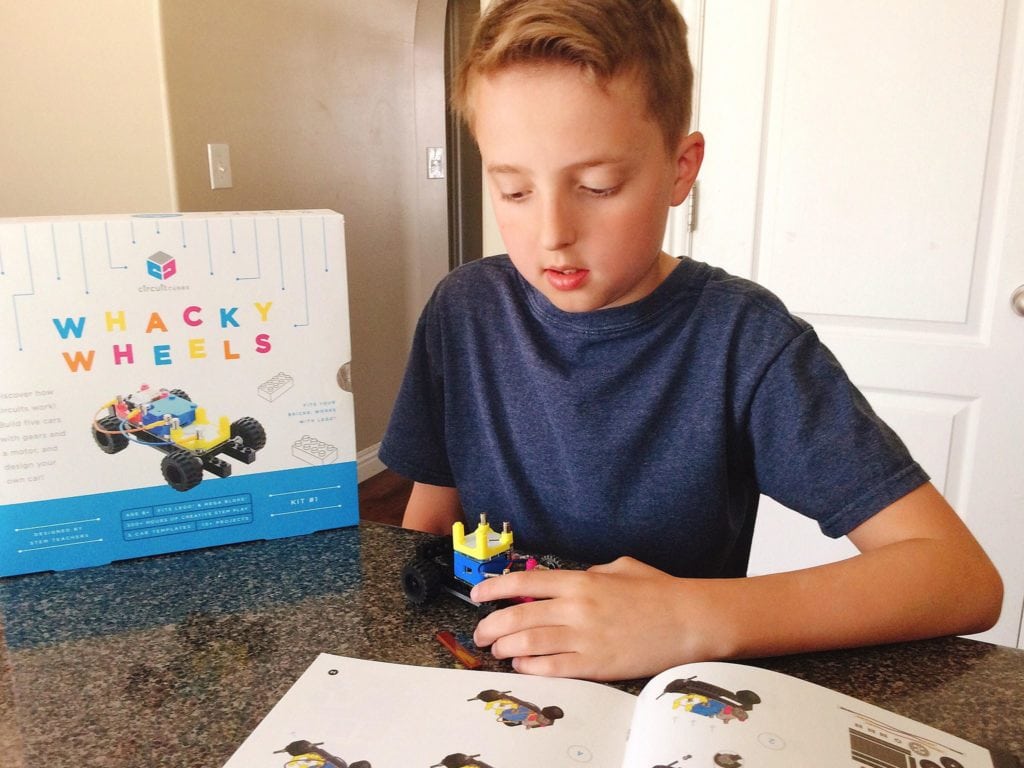 I am the mom three boys who LOVE to build with Legos and other building bricks. My ten year old son not only loves to build, he is OBSESSED with building cars. So when I was sent  a box Circuit Cubes Whacky Wheels to review, I was totally excited! I knew that this toy would be a winner with him and his eight year old brother. And I was right.
When I showed the box to them, my ten-year-old nearly did a cartwheel because he had just finished a unit at school about circuits. He immediately began to tell me how circuits work and couldn't wait to rip open the box and get to work!
What are Circuit Cubes Whacky Wheels?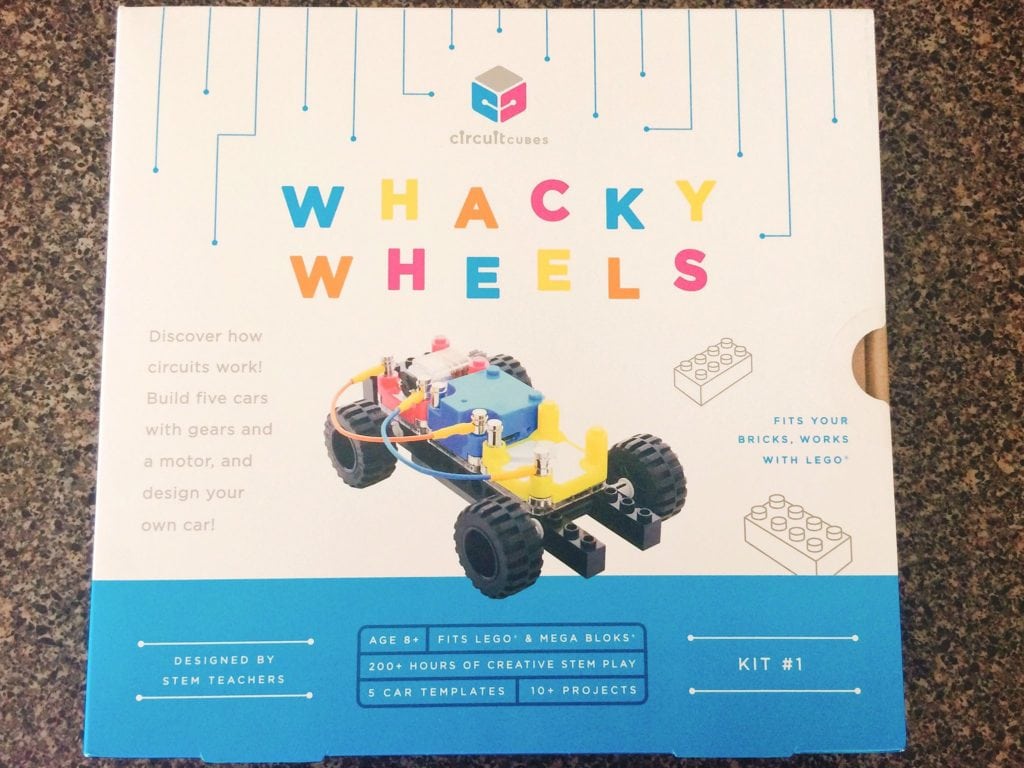 Circuit Cubes Whacky Wheels is an educational toy that was created by STEM teachers to teach kids circuitry basics. They have a semi-transparent design so that kids can see the technology that makes their to so much fun, in action! Through STEM (Science Technology Engineering Math) play, kids can enhance their curiosity, critical thinking, problem-solving, and innovation.
One thing that I love about Circuit Cubes Whacky Wheels is that it FITS YOUR BRICKS! You can go crazy with building fun vehicles using bricks and blocks you already own! With all of the Legos we have in our house, the possibilities are endless!
Circuit Cubes Whacky Wheels Experience
As soon as we opened up the Whacky Wheels box, my boys were off! Before I had the chance to read the instructions, my ten-year-old had the Circuit Cubes put together and working. He was already explaining how the wires connect together to make the circuit complete so the toy can have the power it needs to work. He felt so empowered!
After they had the chance to put the car together and add a few of their own Legos, they wanted to see how the included paper car overlays worked. I have to admit that cutting out the cars was a little tedious and seemed to take forever! My kids definitely required some help with this step, but really enjoyed the final outcome. Having said that, I think they liked building their own creation with their own bricks even more!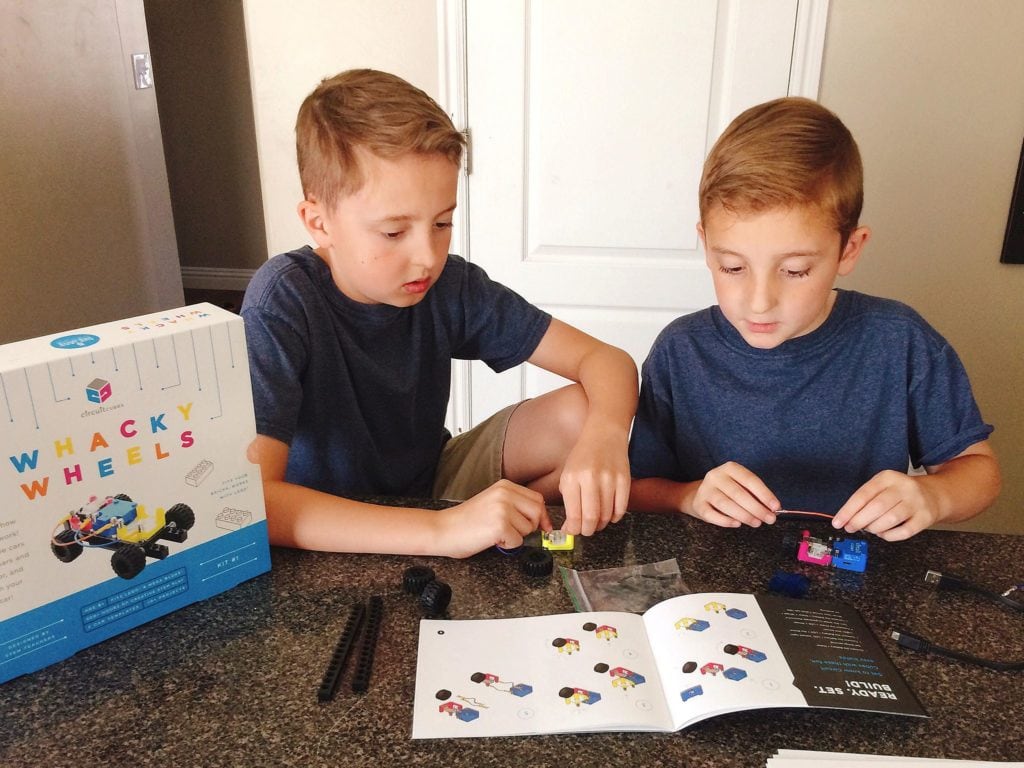 My eight-year-old really wanted to test the durability of the Whacky Wheels car, so we brought it to the park with us. He drove it everywhere! By the end of our visit, he had a little group of kids gathered around him because they thought it was so cool. He was even explaining to them how the circuits worked.
The instructions say that when you charge the Circuit Cubes Whacky Wheels, you should be able to get one hour of play and three days charge with the power off. This was actually way more time than we needed. With as many times as my son would turn off the car to adjust and play with the circuit wires, he was definitely able to play with it for 2-3 hours.
What's Included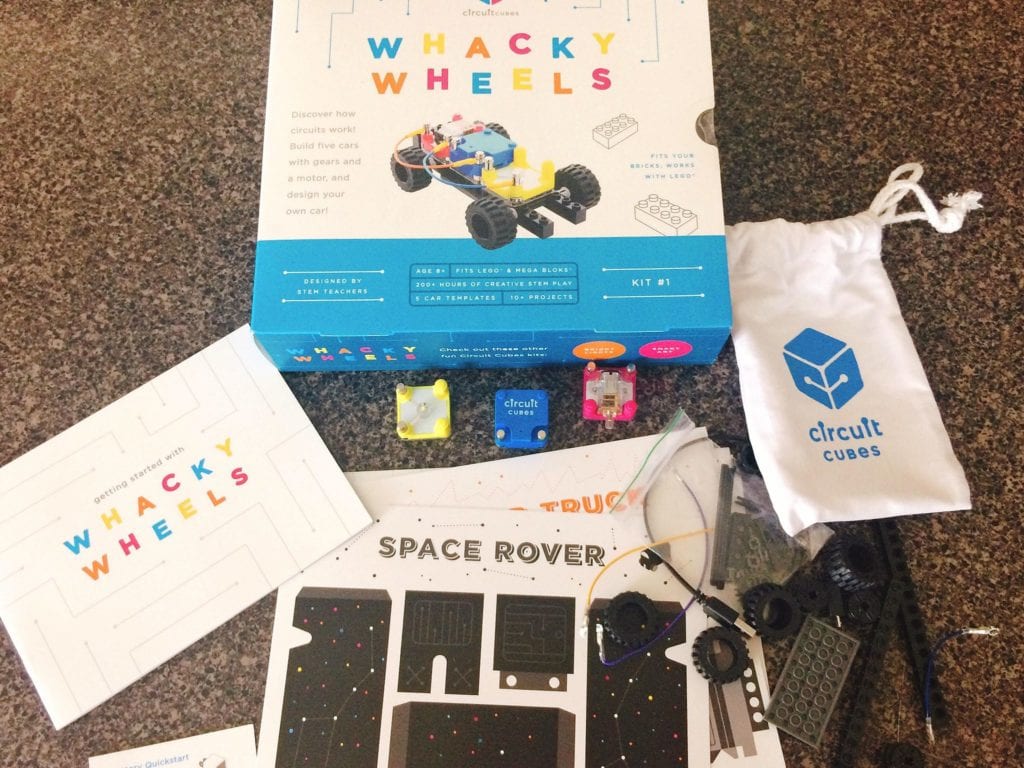 With your Circuit Cubes Whacky Wheels kit, you get:
Three cubes to build the circuit
Wires to connect the circuit
Overlays to create different vehicles including: a monster truck, a space explorer, a deep sea diver, and more
Bricks and wheels to build a car
USB cable to charge the battery
What I liked about Circuit Cubes Whacky Wheels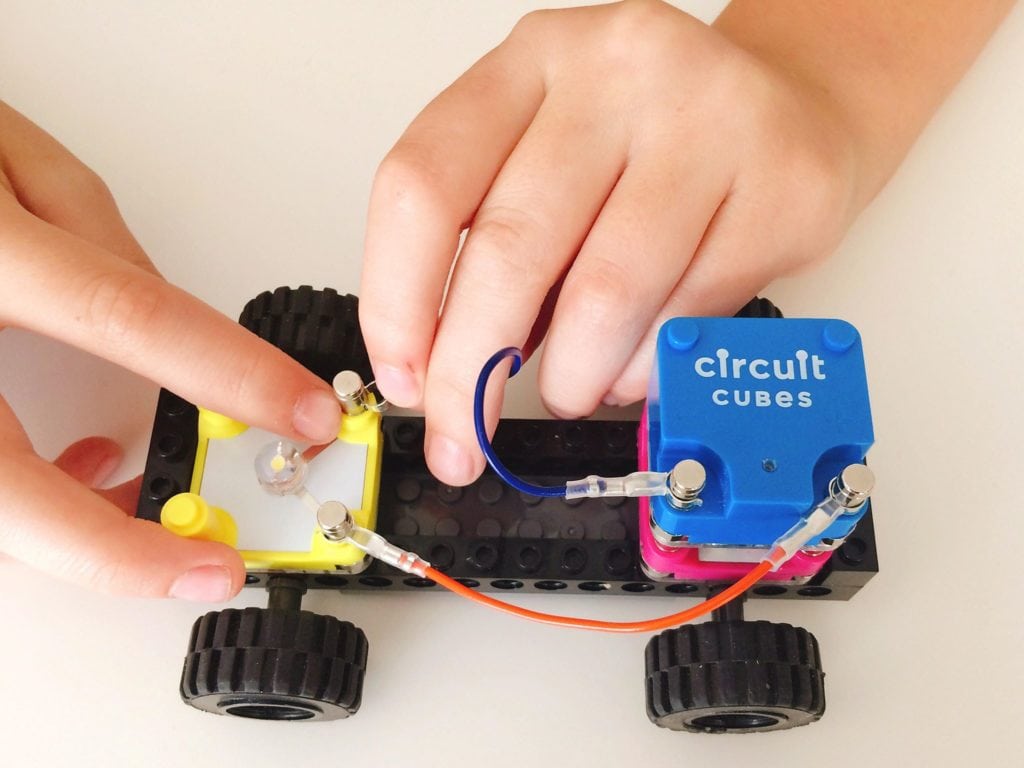 After my kids had the chance to play around with the Circuit Cubes Whacky Wheels, we have decided that it is a really fun toy! My ten-year-old is planning to build his Lego Ferrari around the cubes as well as his Ghostbuster Car to see them actually drive by themselves. He is totally excited. Here is what we liked about this toy:
It helps kids learn about circuits and how they work
It helps them use their critical thinking skills and problem solving skills.
Its fun to drive the little car around
It empowers kids because it is something they built themselves
It is compatible with bricks and blocks you already own
It's fun for many ages
It gives the chance for kids to work together as a team
All major pieces are included, even a usb cord
It fosters creativity
What I didn't like about Circuit Cubes Whacky Wheels
There wasn't really a whole lot that I didn't like about this toy with the exception of cutting out the car overlays. They turned out really cute, but there were a lot of small pieces to cut out and my children still needed help with the cutting, folding, and taping. I ended up doing this part of the project by myself for the most part, which is why I think my children enjoyed building cars with their own bricks instead. They were able to be more creative and take ownership in their creation.
The Verdict
Over all, I would recommend Circuit Cubes Whacky Wheels to other parents. My kids love it and play with it every day. You can purchase this toy on Amazon.com. I definitely think you should check it out and give it a try!